October 11, 2017
World Mental Health Day 2017
Mental Health is as important as physical health but often it is not well-considered or we don't talk about mental health issues due to the stigma. Mental health can determine our motivation, job satisfaction, professional relationships, as well as overall productivity and contribution for our organization. Mental health issues have been shown to increase employee absenteeism, lower rates of productivity and increased costs.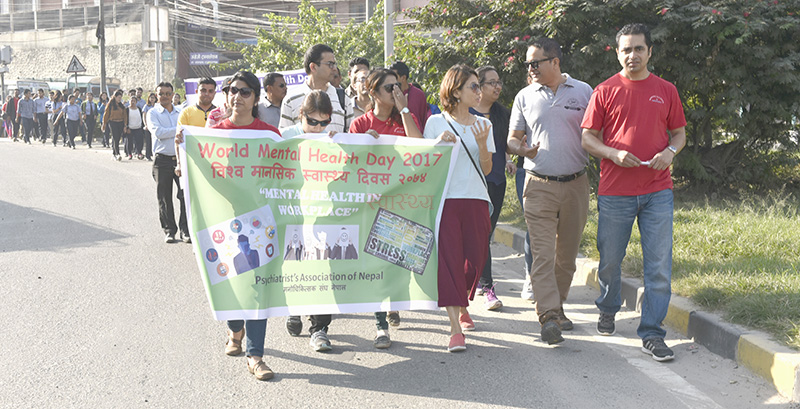 Pic Source: http://www.swasthyakhabar.com/
World Federation for Mental Health founded the awareness day in 1992 and since then people all over the world are holding events, making announcements and celebrating #WorldMentalHealthDay.
Several organizations marked the day with the theme on Mental Health in Workplace. A short news story on it broadcasted by Nepal Television in Hamro kathmandu Program.
Related news:
मानसिक स्वास्थ्य दिवसमा र्‍याली
http://www.swasthyakhabar.com/news-details/7164/2017-10-10#.WdxwKesjIQ5.facebook
वैदेशिक रोजगारी र विश्व मानसिक स्वास्थ्य दिवस
http://ujyaaloonline.com/desh-paradesh/story/223/
कार्यस्थलकै कारण मानिस मानसिक रोगी हुन सक्छ by Gopal Dhakal
http://nepalaaja.com/2017/10/20171010132827
Mental Health at workplace by Sujan and Kripa of PsychBigyaan Network Nepal